About Matt Patuto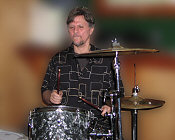 While Attending Rutgers University as a Percussion Performance Major, Matt recorded two albums with the New Jersey Percussion Ensemble on the Nonesuch Label. He performed in concerts conducted by Robert Black, Charles Wuorinen, and Carlos Chavez and worked with the Group for Contemporary Music and Speculum Musicae; it seemed as if Matt was headed to be a percussionist of modern music, but as we know, all things change.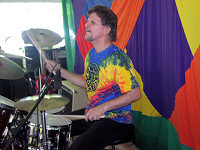 After graduating, Matt immediately went to New England to play drum set for the Full Moon Traveling Band, (FMTB) at clubs, colleges, private parties, and outdoor festivals. After two years, Matt decided that a change of scenery was needed and moved to Los Angles. Freelancing was a bit frustrating and after a phone conversation with one of the founding members of FMTB, Matt cleared out a spare room to house 3 members of that band. On the West Coast FMTB played at the Roxy and several other clubs on the strip before disbanding again. Matt headed back East to New York City.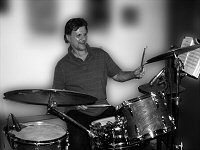 Finding work in New York is not easy, so when the opportunity came along to be in the house band at the world famous Comic Strip, Matt took the job. Here entertainment history was taking place; Matt shared the stage with up and coming comics, Jerry Seinfeld, Gilbert Godfried, Larry Miller, and Eddie Murphy. While keeping his steady gig he studied with jazz drummer Freddie Waits and attended big band workshops at Lynn Oliver Studios. Matt's other side created music with the group Alda Reserve, a new wave band that signed with Sire Records and did concerts with The Ramones, Iggy Pop, The David Johannson Band and The B 52's. Alda headlined their own shows at CBGB's, Max's Kansas City, Tramps, and Trax in New York and sold out shows in Philadelphia at the Hot Club and at the studios of WMMR radio station. After 2 successful albums and several tours of the states, the road took its toll and it was time to seek out new avenues, so Matt headed back to college to get his MA in music.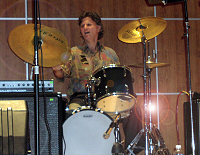 Working with bands and having a creative voice within the rhythmic structure of the songs was always natural for Matt, but expressing himself melodically or harmonically was a different story. A desire for a better understanding of theory and harmony is what prompted Matt back to academia. Analytical studies of classic and modern repertoire gave him the knowledge to better comprehend compositional forms, melodic sequences and harmonic progressions. With this information Matt was empowered and honed in on his mallet techniques. It also gave him new opportunities for work. After graduating New Jersey City University with an MA in Music Education, Matt was asked to stay on as an adjunct percussion instructor. Getting known as a multiple instrumentalist and a good reader got him gigs both on and off Broadway, at cabaret shows and in recording studios. Matt was recruited as an endorser for Vic Firth drumsticks and became of member of the Vic Firth Education Team. Living in New York City and playing gigs brings plenty of exposure and when people asked for private lessons Matt usually said yes. Teaching not only inspired his students to study but he also got "bit by the bug" and took several lessons with New Orleans great Ricky Sebastine. "That's when I knew that second line and New Orleans funk was definitely my favorite style of drumming." Matt's first taste of New Orleans drumming came when he went to visit Vic Shepherd, a member of FMTB who lives and plays in New Orleans. Vic saw how much Matt enjoyed himself when he sat in and played with Vic's band and knew that he would be back often, which, of course he was and will be.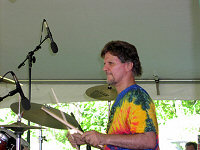 By the mid 1990's, Matt was teaching 30 plus students a week in his Chelsea studio, and was performing concerts, doing recording sessions and working as an Artist in Residence in several NYC schools for the National Organization of Young Audiences. All of this work gave Matt the opportunity to pick and choose his gigs. One such gig was the Jambalaya Brass Band, where he applied all the great grooves that Ricky had taught him. Another gig was with gold and platinum record producer and songwriter Kerryn Tolhurst who hired Matt to play marimba on Paul Kelly's Sony Records debut album Deeper Water. Kerryn also used Matt on drums for several other projects, including Kerryn's debut album Locomo on Noble Rot Records.
After moving to New Jersey, Matt decided to relocate his teaching studio there as well. Many of his NYC students could not travel to New Jersey and Matt found that he had extra time on his hands so… "time to practice!" The vibraphone caught Matt's attention once again and his constant desire to learn prompted him to study with vibraphone legend Dave Samuels. "It was the musical highlight of my life. Dave taught me more theory in two lessons than all my years of study." Inspired by the Caribbean Jazz Project and encouraged by Dave, Matt started his own quartet playing the vibraphone. He has since played the Waldorf Astoria, the Rainbow Room, and The Whitney Museum.
When teaching a student who wasn't quite "getting it" Matt would have to think, on the spot, of a different way to show the student how to perform the technique. When these teaching methods proved successful, Matt would write down the method, save it and use it with other students. These methods or as he calls them, systems, met with great success, and Matt decided to put these systems into an instruction book geared for the intermediate student. The release of his book Drum Set Systems has proven very successful and has received acclaim from author Joel Rothman, as well as several drum set teachers.
Matt is about to release Four Unaccompanied Solos for Snare Drum, a work that uses techniques inspired by the snare drum solos of Michael Colgrass. Matt's solos are intended for advanced high school and college level recital performances. He is also writing the follow up book, It's All About Patterns, to his current release.
Matt is currently a member of the Percussive Arts Society, the International Association of Jazz Educators, a Vic Firth Endorser and a member of the Vic Firth Education Team, a Kat Artist for the MalletKat electronic instruments company and, a faculty member at the Montclair Kimberly Academy in New Jersey.